Football Team Custom Car Floor Mats
Official Car Mats is proud to be officially licensed to display your team's logo on our custom football car mats.

Supporting your favourite football team takes a lot of dedication, and for many it's simply a way of life. We always want to show our support to others, whether by going to weekly games, wearing the colours with pride, or chanting along with our fellow fans.

Now you can take your football team with you by personalising your football floor mats with your team's logo. This is on top of our huge range of customisation options for all our products. Make your car's interior truly yours, while you have your pride and passion on display for all to see.
Personalised Football Team Gifts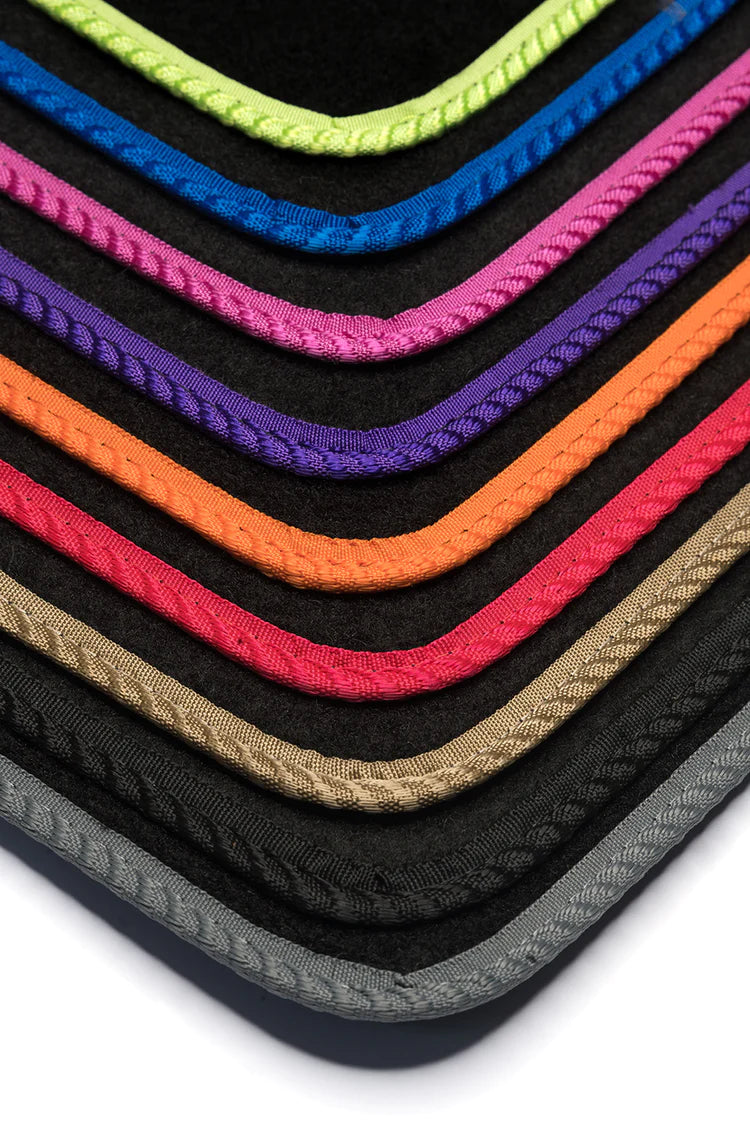 Welcome to your one-stop-shop for premium quality, officially licensed car floor mats customised with the logos of your favourite football teams. They're the ultimate ride upgrade for die-hard fans, and an exceptional gift for the football lover in your life. Imagine the surprise when they open the door of their car and see the emblem of their beloved team cheering them on from the floor!
As a British family-run business with almost 30 years of experience, we've mastered the art of crafting meticulously tailored, top-of-the-range car mats that add a personal touch to your drive. We blend expert craftsmanship with our passion for football to bring you these high-quality aftermarket car mats that elevate the look and feel of your car's interior while showcasing your loyalty to your favourite football team.

We ensure each car mat is a perfect match for your vehicle's interior. Custom fit to the contours of your car's footwell, every mat comes with the necessary securing clips that guarantee they stay put, even when the ride gets a little rough – just like your team battling it out in stoppage time!

You'll love the chance to tailor your car mats further to suit your style. Choose from a range of carpet and trim colours to create a mat that syncs seamlessly with your car interior. But why stop there? We offer personalised embroidery to make your mats even more special. Add a name, a date, a chant – a little extra something to make you smile every time you get behind the wheel.

Crafted right here in the UK, our car mats come with a promise of speedy delivery and unparalleled quality assurance. Made from durable, water-resistant carpet and rubber, these mats are designed to withstand the wear and tear of daily use and the messy aftermath of a celebratory takeaway after a big win! We even offer boot liners to keep your trunk as pristine as your pitch.

Quality is the cornerstone of our business. We follow a meticulous 3-point quality check before any product leaves our factory. Every stitch is inspected, ensuring a high-standard finish that will make you proud. And, we do this while keeping an eye on our environment, using recycled materials whenever possible.

In addition to high-quality products, we offer unbeatable customer service. We believe customer service is a mindset, not just a department. Whether you have a question before purchase or need help afterwards, we're here for you, just like your team's goalie in a tense penalty shootout.

So get ready to hit the road with your team spirit displayed proudly. Order your officially licensed football team car mats today. They usually leave our factory within 5-7 days of the order being placed, with FREE UK DELIVERY. Go ahead, bring a piece of the stadium into your car and drive in style with your favourite football team. Here's to countless journeys made better with the love of football!
READ MORE