Bolton Wanderers Car Floor Mats
Welcome to our product category page featuring officially licensed Bolton Wanderers car floor mats! We're absolutely thrilled to have you here, fellow Bolton Wanderers fan. As a family-run British manufacturer with nearly 30 years of experience, we pour our hearts and souls into crafting top-quality car accessories that fans like you will truly adore. These mats also make incredible gifts for your fellow Bolton Wanderers supporters. So, let's dive in and discover why our tailored car mats are the perfect addition to your vehicle.
Kit out your car with the ultimate in Bolton Wanderers car merchandise with a set of great quality
tailored football team car mats
in "Super Whites" colours and finished with your personalised message or name.
Multicolumn
Step 1: easily find your car with the search tool below

Official Car Mats offer products for all brand and models of cars. Find your car model in our massive selection, and start designing your unique set of car mats.

You can use our Search-By-Reg function below to find your exact model in seconds. Remove the guesswork, and find car mats that perfectly fit your car model.
Find the mats to fit your car
Search by registration
Alternatively use the Search by model to manually find your car
We will then take you to the page to choose your material
Step 2: Personalise your Mats...
On the product page for your make and model, you can add a touch of your unique style to your new set of car mats with our wide range of personalisation options. From materials, to colours, to trims, no two sets are alike!
...with four materials to choose from
Once you've found your make and model (using the easy search tool above) you can choose the material, colours, trim and add personalisation.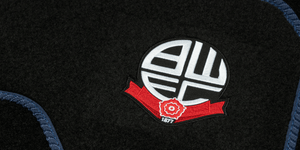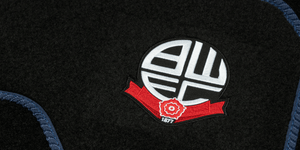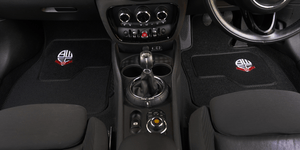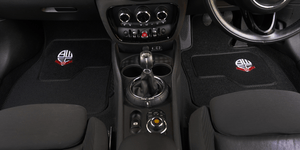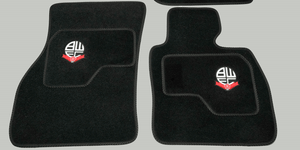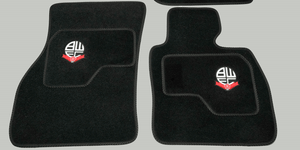 Step 3: order with free shipping
Our products are made to order just for you, to ensure they are high-quality, unique, and fit you car with no adaptation needed. After manufacturing your mats with our precise techniques, we ship them out across the UK, with free, fast delivery.
Personalised Bolton Wanderers Gifts
Here at Official Car Mats, we specialise in creating fully tailored, non-genuine aftermarket car mats, boot mats, and liners. When you choose our Bolton Wanderers car floor mats, rest assured that they will be custom-made to fit your car perfectly. We know how important those little details are, which is why our mats come with compatible securing fittings and clips designed specifically for your vehicle. Say goodbye to annoying slipping mats — they'll stay securely in place in your footwell.

Official Car Mats offer the definitive gift for Bolton Wanderers fans and visitors to the University of Bolton stadium. The customisation includes a choice of carpet quality, colour and bindings. With 30 years manufacturing experience, we can make mats to fit the world's top car brands including Ford, Vauxhall, VW and many more.

We believe in adding that extra touch of personalization to your car mats. That's why we offer a delightful array of customization options. Choose from a range of vibrant carpet colors and stylish trims to perfectly complement your car's interior. And here's where the magic happens: consider adding embroidered elements like your name, initials, or even your favorite player's number. It's the ultimate way to showcase your unwavering love for Bolton Wanderers and create a truly unique gift.

Our commitment to quality is unwavering. We take tremendous pride in manufacturing our car mats right here in the UK. This allows us to maintain rigorous quality control and ensures speedy delivery. Before your mats leave our factory, they undergo a thorough 3-point quality check. This means that by the time they reach your doorstep, they're nothing short of perfection. We only use the finest materials, ensuring durability and longevity. Your Bolton Wanderers car floor mats are built to last and withstand the test of time.

Make a statement with your luxury car mats from Official Car Mats the only officially licensed British car mat manufacturer making official tailored car mats for some of the best clubs in the world, These Tailored car mats are under licesne so not only are you supporting British Manufacturing you are giving back to Bolton wanderers. Ethically made, we use recycled tyres in the carpet production, just one of the eco-friendly initiative's pursued in our organisation.

Customer service is at the heart of everything we do. We believe it's not just a department—it's a state of mind. So, if you have any questions or need assistance before making your purchase, please don't hesitate to reach out. We're here for you every step of the way, ensuring your complete satisfaction.

Now it's time to make your move and order your officially licensed Bolton Wanderers car floor mats. Get ready to showcase your passion with unparalleled style. With our unwavering commitment to quality, delightful customization options, and exceptional customer service, your purchase will be a perfect fit for both your car and your undying love for Bolton Wanderers. Plus, enjoy free UK delivery as our way of saying thank you. Let's hit the road together, wearing our Bolton Wanderers pride on our mats!
READ MORE
Multicolumn
MADE IN THE UK

Our products are supplied as NON GENUINE aftermarket car mats. We have over 25 years of experience in the industry, working with some of the biggest sporting clubs and automotive companies, to bring you top quality car mats that you would be proud to have in your car.