Brighton & Hove Albion Car Floor Mats
Buy our officially licensed Brighton and Hove FC Car Floor Mats online today.  Custom made for any make or model.  A must-have for all passionate Seagulls supporters!
As a family-run British manufacturer with nearly 30 years of experience, we take immense pride in creating top-quality car and van floor mats, boot mats, and liners. Our mission is simple: to provide you with mats that reflect your love for Brighton and Hove FC, infusing your vehicle with the vibrant spirit of the club.
Multicolumn
Step 1: easily find your car with the search tool below

Official Car Mats offer products for all brand and models of cars. Find your car model in our massive selection, and start designing your unique set of car mats.

You can use our Search-By-Reg function below to find your exact model in seconds. Remove the guesswork, and find car mats that perfectly fit your car model.
Find the mats to fit your car
Search by registration
Alternatively use the Search by model to manually find your car
We will then take you to the page to choose your material
Step 2: Personalise your Mats...
On the product page for your make and model, you can add a touch of your unique style to your new set of car mats with our wide range of personalisation options. From materials, to colours, to trims, no two sets are alike!
...with four materials to choose from
Once you've found your make and model (using the easy search tool above) you can choose the material, colours, trim and add personalisation.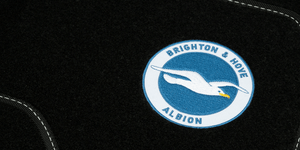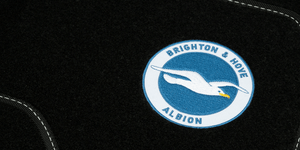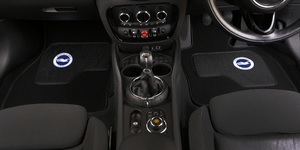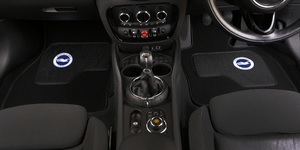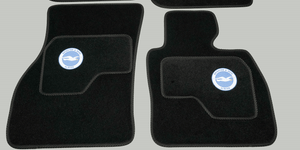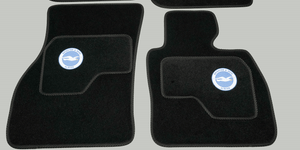 Step 3: order with free shipping
Our products are made to order just for you, to ensure they are high-quality, unique, and fit you car with no adaptation needed. After manufacturing your mats with our precise techniques, we ship them out across the UK, with free, fast delivery.
Brighton FC Personalised Gifts
Our Brighton and Hove FC Car Floor Mats are meticulously tailored to fit your vehicle flawlessly. We understand the significance of precision, ensuring that our mats seamlessly match the contours of your car's footwell. No more worrying about slipping or sliding—our mats are equipped with compatible securing fittings and clips to keep them firmly in place, just like the Seagulls position in the league!

We believe in the power of customisation, which is why we offer a range of options to tailor your car mats to match your car's interior. Choose from an array of carpet colours and trims, allowing you to create a look that perfectly embodies your style and showcases your allegiance to Brighton and Hove FC.

But that's not all! Take your Seagulls pride to new heights with our personalised embroidery. Imagine cruising through town with your name or favourite player's number elegantly stitched into your mats, capturing the essence of Brighton and Hove FC and making your car a true reflection of your undying support.

Get ready to feel the Seagulls' spirit beneath your feet with our officially licensed Brighton and Hove FC car floor mats. Whether you opt for the luxurious carpet or the durable rubber options, both are designed to be non-slip and water-resistant—ideal for tackling any weather conditions that come your way. It's time to make heads turn on the road, showcasing your love for the Seagulls and embracing the Brighton and Hove FC legacy wherever you go.

As trusted suppliers to major names in the automotive industry and sports clubs, we're proud to stand alongside Brighton and Hove FC. Our unwavering commitment to quality and craftsmanship is evident in every detail. Each set of mats comes complete with compatible securing fittings and clips, just like the precise passes that keep the ball in play.

When it comes to adding the perfect finishing touches to your vehicle's interior, look no further. All our products are proudly made in the UK and fully licensed as official Brighton and Hove Football Club merchandise, ensuring that your purchase not only reflects your passion but also supports the club you love.

Shop now and let the world know you're a true Brighton and Hove FC fan. From the exhilarating atmosphere of the Amex Stadium to the heart of your car, our mats will accompany you on an unforgettable journey. Embrace the Seagulls' heritage, add a touch of personalisation to your ride, and drive with pride!
READ MORE
Multicolumn
MADE IN THE UK

Our products are supplied as NON GENUINE aftermarket car mats. We have over 25 years of experience in the industry, working with some of the biggest sporting clubs and automotive companies, to bring you top quality car mats that you would be proud to have in your car.