Heart of Midlothian FC Car Floor Mats
Are you, a friend or family member a regular visitor to Tynecastle park? We also offer our mats as personalised car mats for an added bit of fun, Jam Tarts, Hearts Biggest Fan, My Daddy Loves Hearts, a great personalised gift for any Heart of Midlothian FC Fans. Turn your car into a mini Tynecastle Park, home to your beloved team, and take the spirit of the game wherever you roam.
As we near our 30th anniversary as a family-run British business, we've learned the importance of quality and care - much like Hearts legends like John Robertson and Bobby Walker. These football team car mats are tailored to perfection, manufactured under license so now only are you supporting British Manufacturing, you are also giving back to your beloved Heart of Midlothian FC. Ethically made, we use recycled tyres in the carpet production, just one of the eco-friendly initiatives pursued by Official Car mats.
Multicolumn
Step 1: easily find your car with the search tool below

Official Car Mats offer products for all brand and models of cars. Find your car model in our massive selection, and start designing your unique set of car mats.

You can use our Search-By-Reg function below to find your exact model in seconds. Remove the guesswork, and find car mats that perfectly fit your car model.
Find the mats to fit your car
Search by registration
Alternatively use the Search by model to manually find your car
We will then take you to the page to choose your material
Step 2: Personalise your Mats...
On the product page for your make and model, you can add a touch of your unique style to your new set of car mats with our wide range of personalisation options. From materials, to colours, to trims, no two sets are alike!
...with four materials to choose from
Once you've found your make and model (using the easy search tool above) you can choose the material, colours, trim and add personalisation.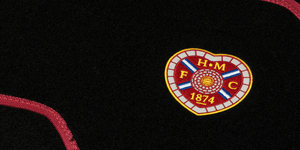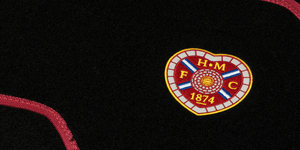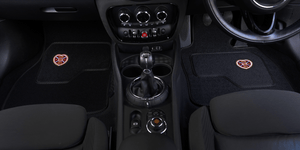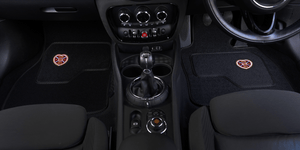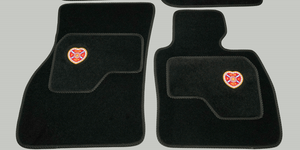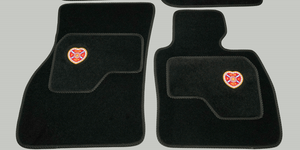 Step 3: order with free shipping
Our products are made to order just for you, to ensure they are high-quality, unique, and fit you car with no adaptation needed. After manufacturing your mats with our precise techniques, we ship them out across the UK, with free, fast delivery.
Personalised Heart Of Midlothian Gifts
Each Heart of Midlothian FC mat is designed to fit seamlessly into your car. Equipped with the necessary securing clips and fittings, they will steadfastly stand their ground, just like Hearts standing strong against their fiercest opponents.

To bring the Maroon pride to the fore, you can customise these mats with your choice of carpet and trim colours. And for an extra special touch, we offer personalised embroidery. A car mat adorned with your name, or your favourite Hearts chant makes a unique gift for your fellow Jambo or a wonderful treat for yourself.

Fully tailored to fit car mats are a perfect gift for any Heart of Midlothian FC Fan. Kit out your car with Bespoke car mats. Official car mats offer mats to fit all UK makes and models, including Volkswagen, Ford, Kia, Vauxhall, BMW to name just a few, All our mats are bespoke to suit your vehicle. Choose your make, model and year of vehicle, then select the carpet quality of your choice, each mat can be finished in a plain finish to suit your car or with a coloured bindings to match the club colours of Heart of Midlothian FC. All licensed Car mats include the Hearts crest embroidered on both the driver and the passenger mat, priced from £31.95.

Our dedication to quality reflects in our 3-point quality check that every product undergoes before leaving our factory. Our commitment to using only the best materials echoes the quality you associate with Heart of Midlothian FC.

We understand and value the importance of environmental responsibility, so we strive to use recycled materials wherever possible without compromising the quality of our products.
Customer service, in our opinion, isn't just a department but a state of mind. If you have any questions before you make a purchase, our dedicated team is always on hand to assist you.

Order your Heart of Midlothian FC car floor mat today, typically dispatched within 5-7 days of your order placement, with FREE UK DELIVERY included! Show your true colours and let your Heart take the wheel. These mats make the perfect gift for a devoted Hearts fan and an enduring keepsake of your love for your club. Carry the pride of Tynecastle Park with you, mile after mile!

READ MORE
Multicolumn
MADE IN THE UK

Our products are supplied as NON GENUINE aftermarket car mats. We have over 25 years of experience in the industry, working with some of the biggest sporting clubs and automotive companies, to bring you top quality car mats that you would be proud to have in your car.