Rugby Teams Car Mats
Welcome, rugby fans, to your ultimate destination for premium quality, officially licensed car floor mats featuring the logos of your favourite rugby teams. These mats are the perfect car upgrade for ardent supporters and an unbeatable gift for any rugby enthusiast. Picture their delight when they open their car door to be greeted by the emblem of their cherished team!

Over our 30 years of experience, we've perfected the craft of creating high-quality rugby teams car mats. Our love for rugby and commitment to superior craftsmanship fuse to bring you these impressive, non-genuine aftermarket car mats, designed to enhance your vehicle's interior while displaying your unwavering team spirit.
Customised Rugby Team Logo Car Mats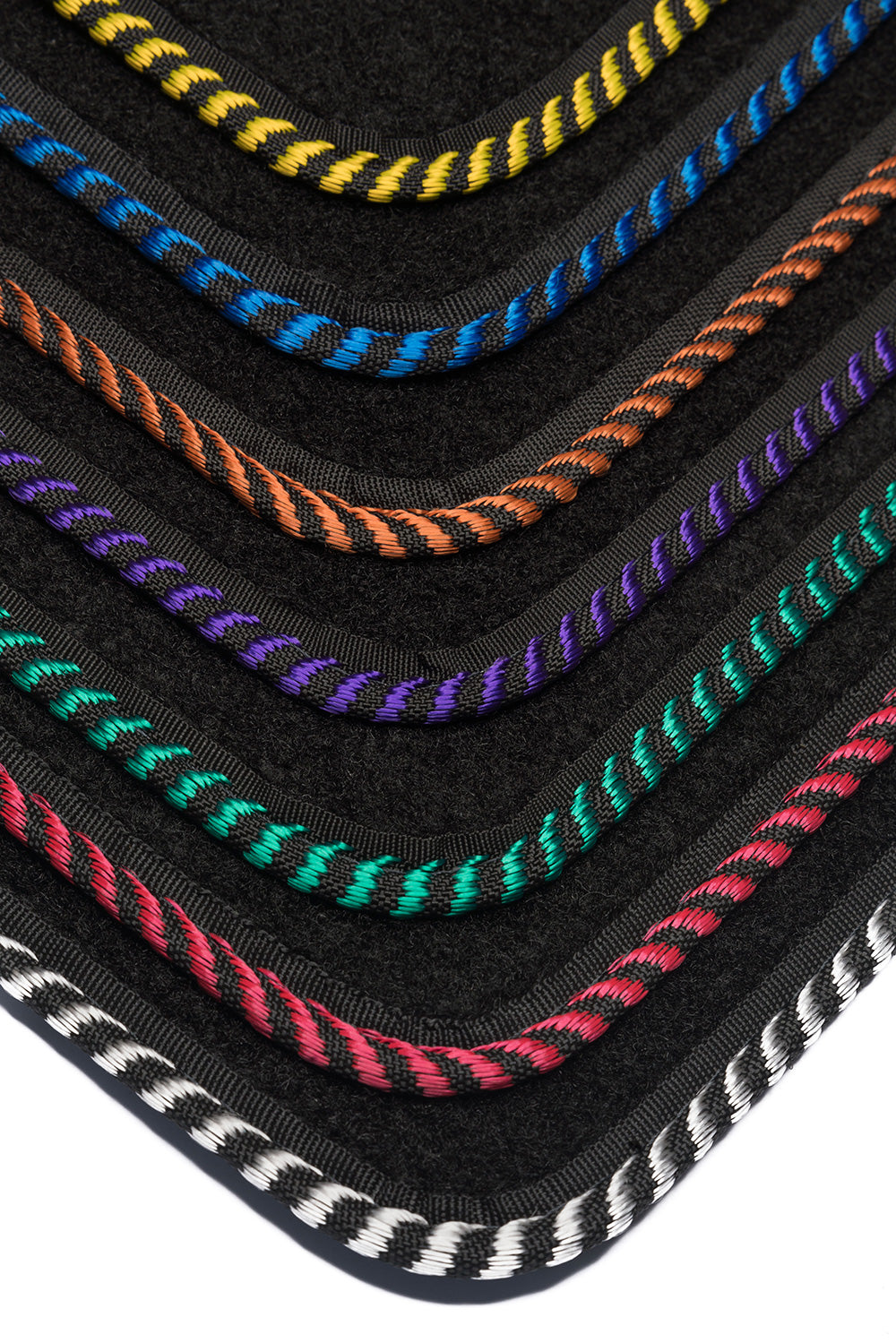 We ensure that each car mat produced in our factory is a flawless fit for your vehicle. Meticulously tailored to your car's footwell, all mats come equipped with the essential securing clips, providing a secure fit even when the journey mirrors the intensity of a fierce rugby match.
Our customisation options further elevate the experience. Select from a range of carpet and trim colours to create a car mat that harmonises with your vehicle's interior. For an additional personal touch, we offer personalised embroidery. Add a name, an inspirational quote or an iconic rugby phrase - a unique detail to boost your morale every time you drive.

Proudly made in the UK, our car mats promise a fast delivery and superior quality assurance. Constructed from robust, water-resistant carpet and rubber, these mats are designed to endure daily use and the inevitable mud and muck after a triumphant post-match celebration! We also provide boot liners to keep your trunk as clean as a freshly chalked rugby field.

Quality underpins everything we do. Every product undergoes a rigorous 3-point quality check before leaving our factory, and every stitch is inspected to ensure a premium finish that will stand the test of time. We make this commitment while also taking care of our environment, utilising recycled materials whenever we can.

We believe customer service is more than just a department - it's a mindset. Whether you have a question before you purchase or need assistance afterwards, our team is here for you, ready to offer support in any way we can - a commitment as steadfast as a rugby team standing united.

So, embrace your love for rugby with our officially licensed rugby team car mats. Orders are typically dispatched within 5-7 days and include FREE UK DELIVERY. Go on, bring a slice of the pitch into your car and hit the road in style, your favourite team cheering you on from the floor. Here's to the many thrilling journeys made even better with the spirit of rugby!
READ MORE