Fulham FC Car Floor Mats
Hello, dedicated followers of the Whites! We're thrilled to introduce our officially licensed Fulham FC car floor mats, designed with the fervent Cottagers in mind. With these uniquely crafted mats, you can carry a piece of Craven Cottage with you wherever you go, letting your allegiance to Fulham shine.
With nearly 30 years of experience as a family-run British manufacturer, we bring the same dedication to perfection as Fulham legends like Johnny Haynes and George Cohen have shown on the pitch. Our football team car mats are meticulously tailored to match your car's exact specifications, providing a perfect fit and a distinctive statement of your support.
Multicolumn
Step 1: easily find your car with the search tool below

Official Car Mats offer products for all brand and models of cars. Find your car model in our massive selection, and start designing your unique set of car mats.

You can use our Search-By-Reg function below to find your exact model in seconds. Remove the guesswork, and find car mats that perfectly fit your car model.
Find the mats to fit your car
Search by registration
Alternatively use the Search by model to manually find your car
We will then take you to the page to choose your material
Step 2: Personalise your Mats...
On the product page for your make and model, you can add a touch of your unique style to your new set of car mats with our wide range of personalisation options. From materials, to colours, to trims, no two sets are alike!
...with four materials to choose from
Once you've found your make and model (using the easy search tool above) you can choose the material, colours, trim and add personalisation.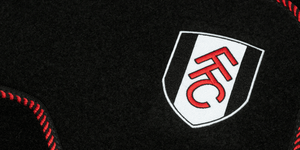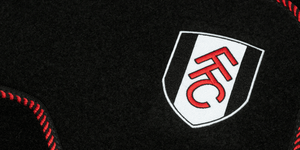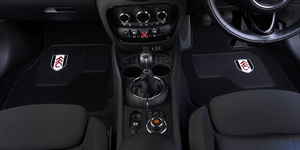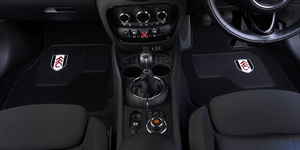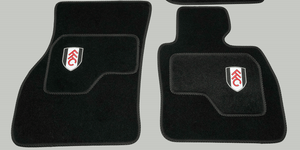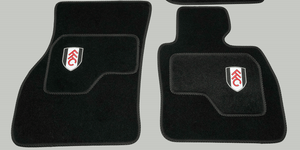 Step 3: order with free shipping
Our products are made to order just for you, to ensure they are high-quality, unique, and fit you car with no adaptation needed. After manufacturing your mats with our precise techniques, we ship them out across the UK, with free, fast delivery.
Personalised Fulham FC Gifts
Each Fulham FC mat comes equipped with the compatible securing fittings or clips, keeping your mat securely in place, just as Fulham holds its place in the hearts of its fans. And what's more, you can personalise these mats to reflect the team's iconic black and white colours or complement the interior of your car.

For an extra touch of Fulham FC pride, consider our personalised embroidery option. A mat marked with your name or favourite matchday chant can make a perfect gift for a fellow Fulham supporter or a unique addition to your own vehicle.

Proudly made in the UK, our car mats and boot liners assure quality and prompt delivery. Available in carpet and rubber, they boast non-slip and water-resistant features, ensuring your vehicle's interior remains as immaculate as the Craven Cottage turf.

We take quality seriously, just like the Whites on a matchday. All our products undergo a stringent 3-point quality check before leaving our factory, and we use only the best materials, ensuring that our mats stand the test of time.

Committed to environmental responsibility, we aim to use recycled materials whenever possible, ensuring our products not only meet your expectations but also contribute to a greener future.

We view customer service as more than a department - it's an integral part of our ethos. Should you have any questions or need any assistance, our dedicated team is always ready to help.

Order your Fulham FC car floor mats today. With dispatch typically within 5-7 days of your order placement and FREE UK DELIVERY included, you'll soon be celebrating your love for the Cottagers every time you hit the road. These mats are the ideal way to demonstrate your unwavering Fulham FC loyalty, whether as a gift or a personal keepsake. With our mats, you'll always be driving with the Whites!

READ MORE
Multicolumn
MADE IN THE UK

Our products are supplied as NON GENUINE aftermarket car mats. We have over 25 years of experience in the industry, working with some of the biggest sporting clubs and automotive companies, to bring you top quality car mats that you would be proud to have in your car.